Creating an external connection to NetSuite requires some initial configuration in NetSuite. This article explains the necessary steps in order to connect Trelica to NetSuite.
---
You must be in a NetSuite Administrator role in order to configure NetSuite to allow Trelica to connect to it.
Enable Token Based Authentication in NetSuite
Log in to NetSuite.
Go to Setup > Company > Enable Features.
Under the SuiteCloud sub-tab:
In the SuiteTalk (Web Services) field group, ensure that REST Web Services is checked
In the Manage Authentication field group, ensure that Token Based Authentication is checked
Click Save.
Create a role and account for the Trelica integration
Create a Trelica role
Go to Setup > Users/Roles > User Management > Manage Roles > New. (or search for new role in the global search).
Give the role a descriptive name, such as Trelica Integration Role.
Under the Authentication field group, make sure Web Services Only Role is unchecked, as this does not work with OAuth1a.
Now go to the Permissions sub-tab and select the following permissions:
Section
Permissions
Transactions

Audit Trail (View)

Bills (View)

Check (View)

Enter Vendor Credits (View)

Expense Report (View)

Find Transaction (View)

Purchase Order (View)
Make Journal Entry (View)

Reports

Account Detail (View)
Accounts Payable (View)
Amortization Reports (View)

Expenses (View)

SuiteAnalytics Workbook (View)

Transaction Detail (View)

Purchase Order Reports (View)

Lists

Accounts (View)
Amortization Schedules (View)
Items (View)
Currency (View)
Departments (View)
Employees (View)

Employee Record (View)

Expense Categories (View)
Vendors (View)

Setup

REST Web Services (Full)

User Access Tokens (Full)

Log in using Access Tokens (Full)

Access Token Management (Full)

View Login Audit Trail (Full)
Click Save.
NetSuite lets you restrict access to subsidiaries and accounts. Unless you have a specific reason to restrict the data you are requesting, please ensure that:
Subsidiary Restrictions > Accessible Subsidiaries - set to All Under Accounting Books,
Accounting Books > Selected Accounting Books - set to All
Create a Trelica employee record
Go to Lists > Employees > Employees > New (or search for page:employees in the global search).
Give the Employee a descriptive name and ID, (e.g. TrelicaAPI).
Under the Access sub-tab, assign the newly created Trelica role.
Click Save.
The Trelica integration user will count towards your available user licenses.
Create a new Integration Record
Go to Setup > Integration > Manage Integrations > New (or search for page:integrations in the global search)
| Field | Value |
| --- | --- |
| Name | Trelica |
| Description | Trelica Spend Data Integration |
| State | Enabled |
| Concurrency Limit | 10 (suggested, or a value under the Max Concurrency Limit) |
Now go to the Authentication sub-tab,
Find the Token-based Authentication field group and fill in the following fields:
If your data is hosted in our EU cloud then please substitute https://eu.trelica.com for https://app.trelica.com in the redirect URI.
Make sure that nothing is checked or entered in the OAuth2.0 and User Credentials field groups.
Click Save. On the confirmation screen, copy the following that you will need to authenticate:
Consumer Key (or Client ID)
Consumer Secret (or Client Secret)
If you forget to copy these, you can always edit the Integration Record and regenerate new details.
Find your NetSuite Account ID
Go to Setup > Integration > Webservice Preferences
Copy your Account ID and keep a note of it as you will need to enter it into Trelica.
Connect Trelica to NetSuite
If you received an email asking you to set up the integration, then just click on the link, otherwise login to Trelica and go to Admin > Integrations to get started.
In the Search... box, just type in NetSuite.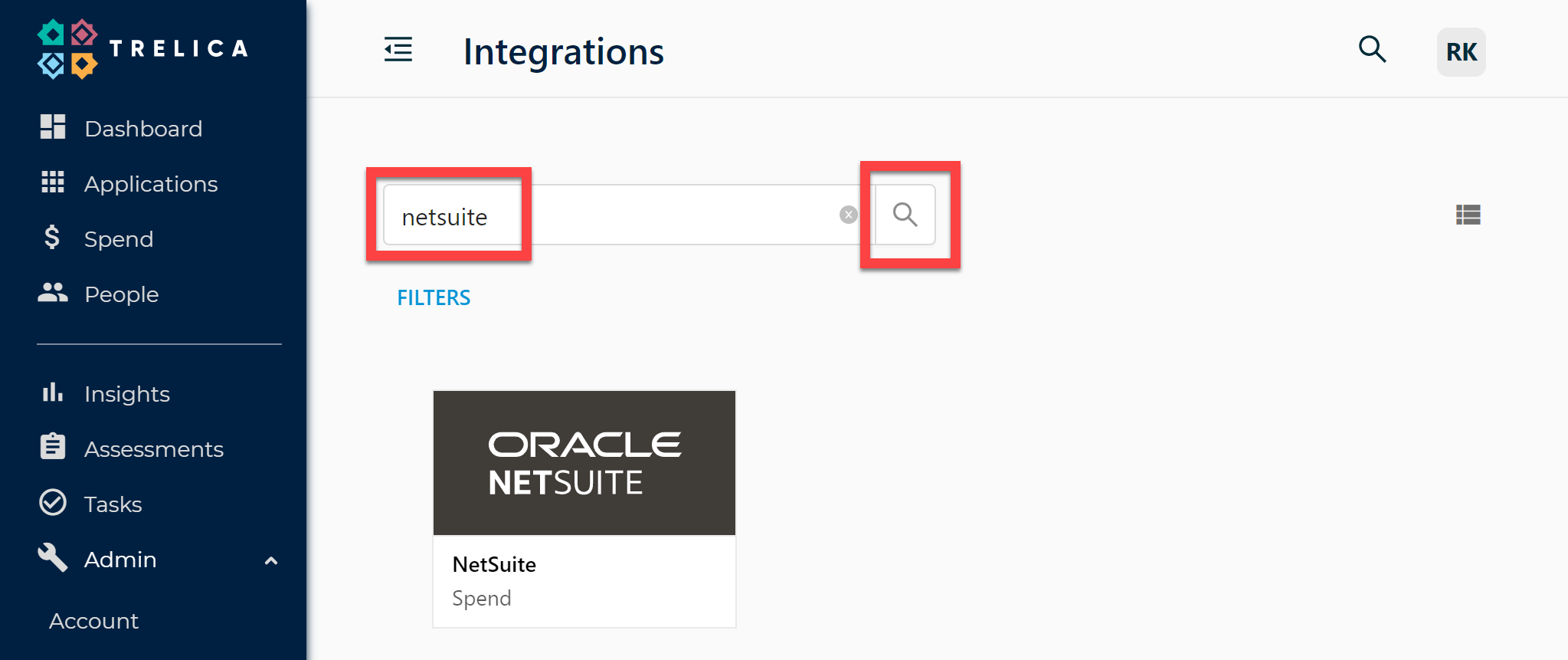 Then click on the NetSuite logo to get started, and on the next screen click Connect: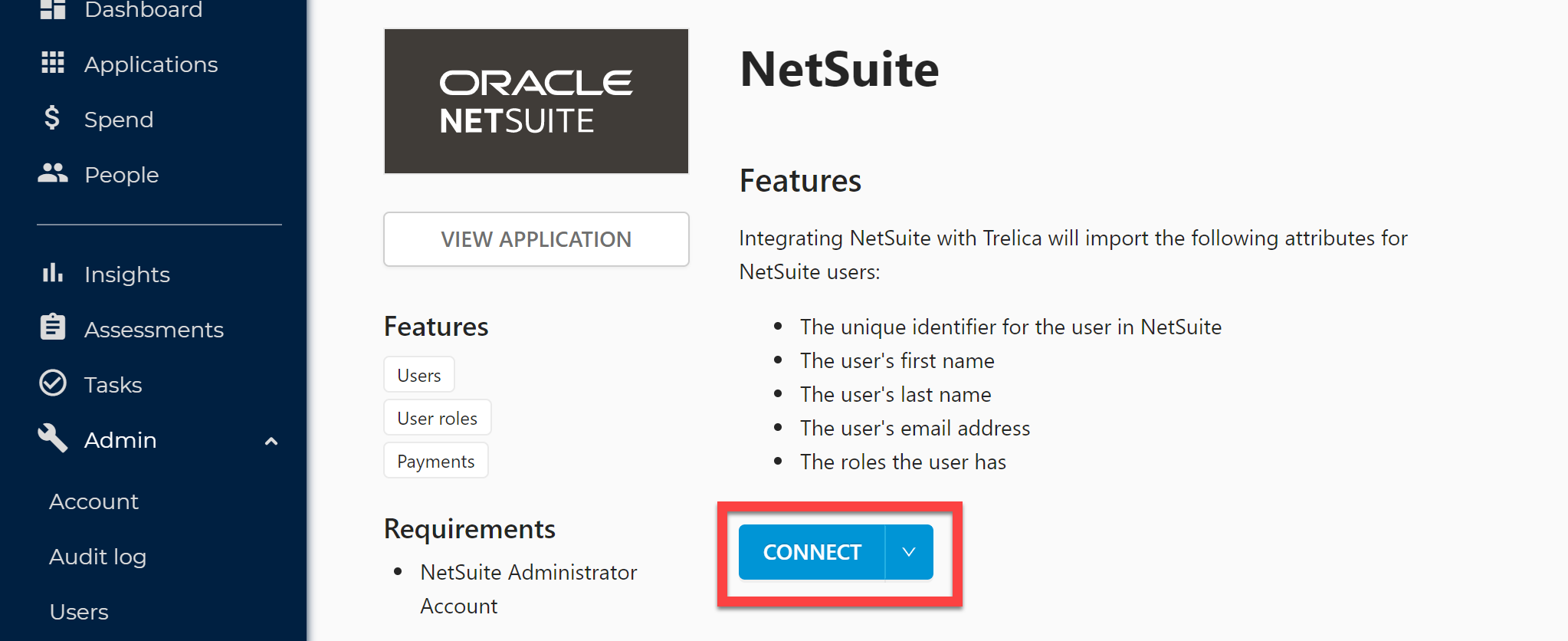 Now enter the Account ID, Consumer Key and Consumer Secret that you generated in NetSuite.
For sandbox instances, please use a minus sign (-) rather than an underscore (_) for the Account ID, e.g. 1234567-SB1.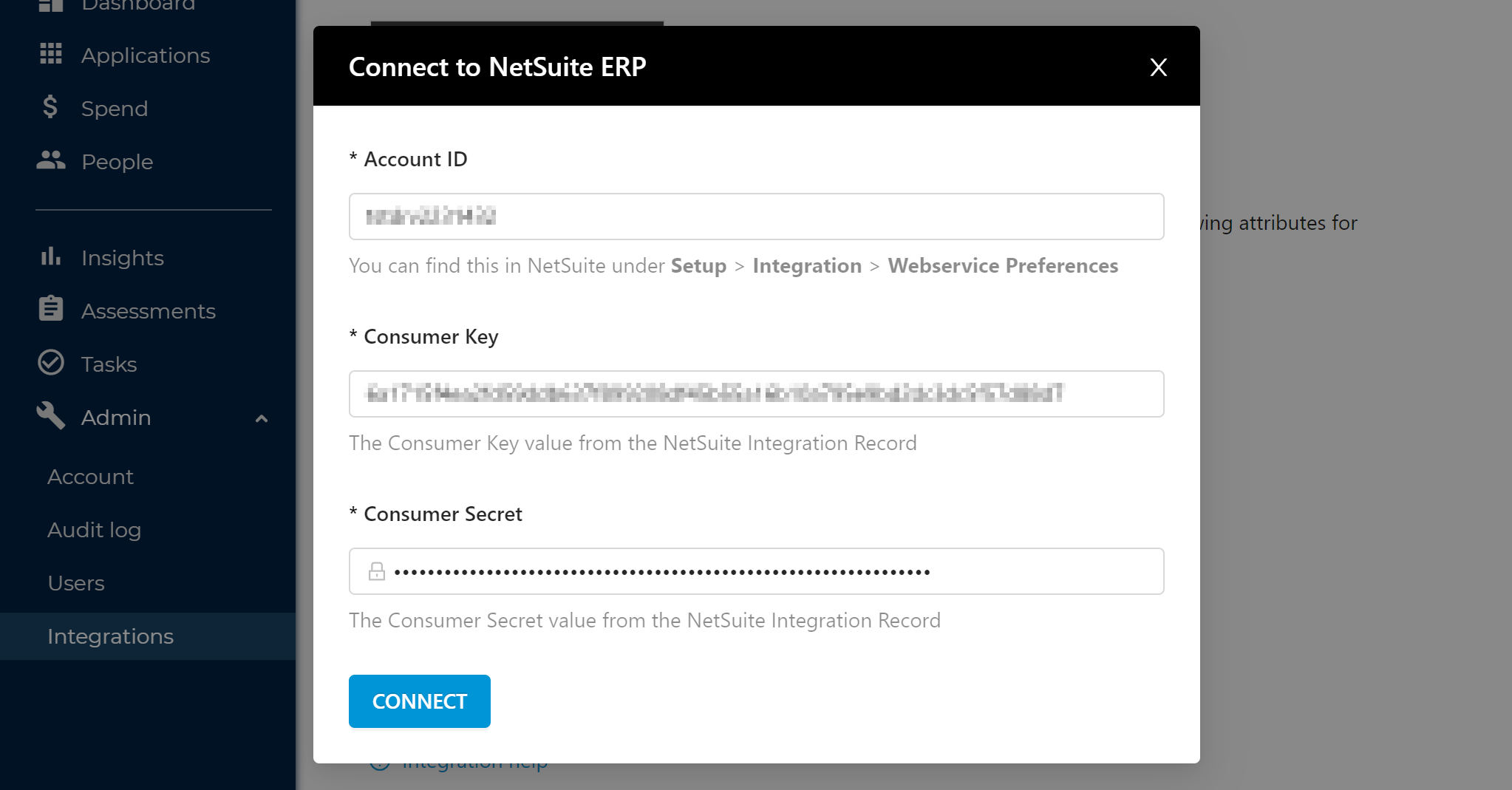 Click Connect.
You will then need to login to NetSuite.
Once logged in, you will be asked to confirm that Trelica is allowed to access your NetSuite account.
Click Continue.
You will be taken back to Trelica and Trelica will start to request data from NetSuite. This may take some time but happens in the background, so you can freely navigate away from the page and come back later to check on progress.
FAQ
What do I do if I've forgotten my NetSuite Consumer Key and Consumer Secret?
You can regenerate them by editing the integration record:
https://docs.oracle.com/en/cloud/saas/netsuite/ns-online-help/section_4395597766.html