PagerDuty + Trelica Integration Benefits
Trelica helps you keep on top of:
what SaaS software has been licensed,
how much money is being spent on it,
how well it's being used,
whether everything is compliant from a security and privacy point of view.
Trelica can connect directly to PagerDuty to extract:
up-to-date information about which of your users are using PagerDuty,
what roles they have.
This will help you improve engagement, deprovision unused seats, and prepare for your license renewal.
How it Works
Trelica connects to PagerDuty using OAuth2. This means that you will login to PagerDuty and grant Trelica specific permissions to only access PagerDuty User data.
You can revoke access at any time by disconnecting the integration in either Trelica or PagerDuty.
Requirements
Trelica needs the PagerDuty user to have an Admin base role. If you do not have this role, please reach out to an Admin or Account Owner within your organization to configure the integration.
To integrate with Trelica you will need a Trelica account. If you don't have one then please contact us through our website to get set-up.
Integration Walkthrough
Log in to your Trelica account and go to Admin > Integrations.
In the Search... box, just type in PagerDuty:
Then click on the PagerDuty logo to get started. The page describes what you can do with the integration.

Click the Connect button at the bottom, and then you will be asked what features you want to enable for the integration. This is to ensure that we request the minimum possible permissions from PagerDuty.
If you want the ability to Deprovision users then please check the appropriate box. This will request an additional 'write' permission.
Click Connect again to continue: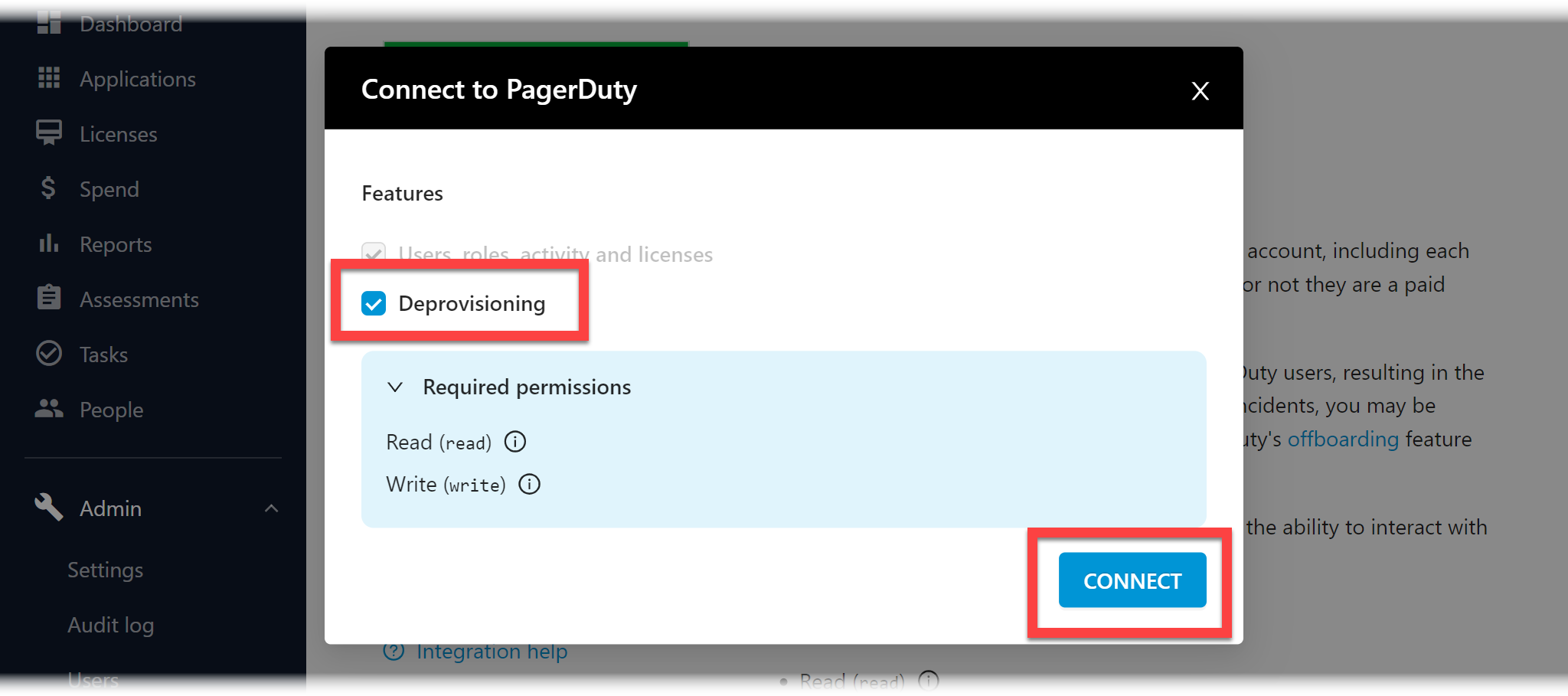 You will then be asked to login to PagerDuty and shown a message explaining that Trelica wants to connect to your organization's PagerDuty account: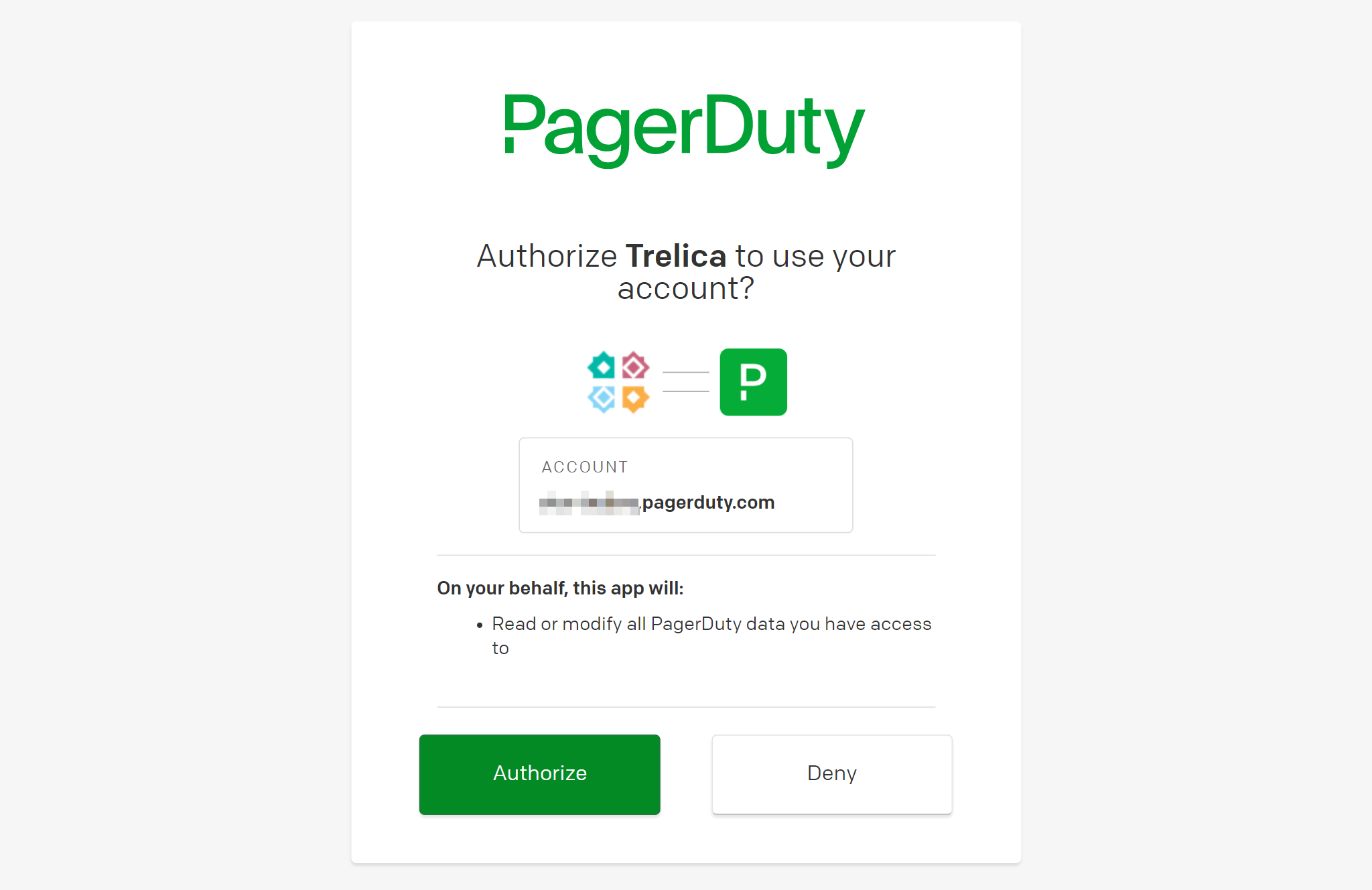 Click Authorize and you will be taken back to Trelica.
After a short pause, Trelica will start to synchronize with PagerDuty and you'll see a green tick when everything is done.

Although this shouldn't take long, you don't have to wait for this to happen - once you're back in Trelica feel free to go off and do other things.
Click on View Application to go through to the PagerDuty profile page and review your users:
Deprovisioning PagerDuty users
Trelica's PagerDuty integration supports deprovisioning - it's one of the 'features' checkboxes available when first connecting the integration.
Users deprovisioned via Trelica will have their PagerDuty accounts deleted. By default, PagerDuty will prevent deprovisioning if the user has assigned incidents. This will be displayed as a deprovisioning error in Trelica (including the reason described above).
If you're on PagerDuty's Business or Digital Operations pricing plans you can configure offboarding rules in the PagerDuty admin console to account for this by reassigning incidents as accounts are deprovisioned and deleted.
How to Uninstall
Disconnecting PagerDuty within Trelica
The simplest way to disconnect Trelica from your PagerDuty account is to go back to the PagerDuty integration page (Admin > Integrations > Search for PagerDuty), click the menu icon on the right, and choose Disconnect:

Revoking access from PagerDuty
Alternatively you can deauthorize Trelica from PagerDuty by going to the User Settings tab in your User profile and clicking Revoke: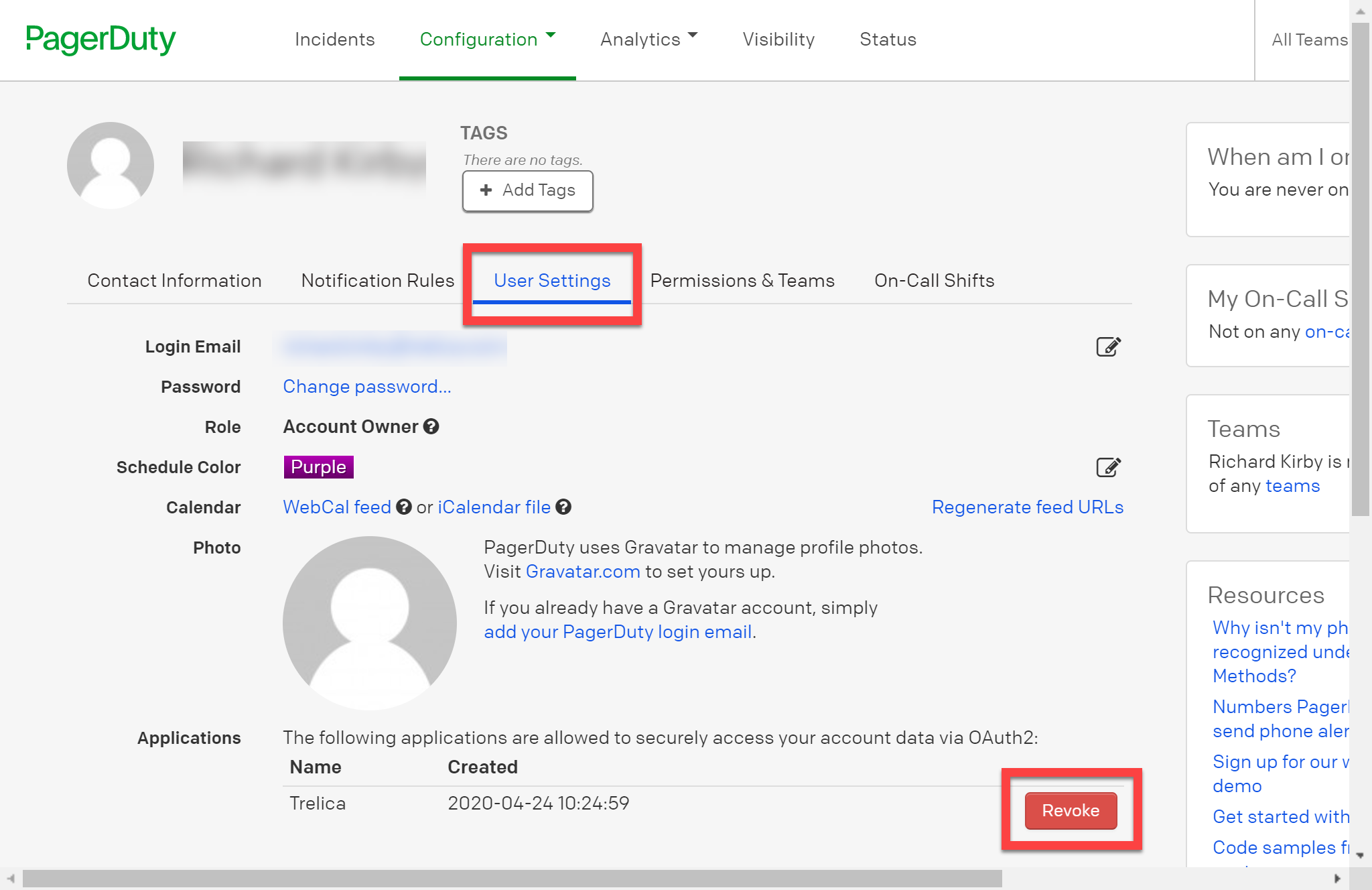 Support
If you need help with this integration, please contact support@trelica.com.