When you try to connect Jamf Pro to Trelica you will be asked for a username and password. This article shows you how to create a Jamf Pro user account with the correct permissions.
---
How does Trelica work with Jamf Pro?
Trelica can connect directly to different SaaS tools (like Jamf Pro) to extract up-to-date information about which of your users are using Jamf Pro, and how many devices are assigned to each user.
To integrate with Trelica you will need a Trelica account. If you don't have one then please contact us through our website to get set-up.
You must be an administrator of your Jamf Pro instance in order to connect with Trelica.
As an administrator, you may have received an invitation from someone in your IT team asking you to connect Jamf Pro to Trelica.
Create a user account for the integration in Jamf Pro
Log in to Jamf Pro as an administrator, locate the settings icon in the top right and select User accounts and groups.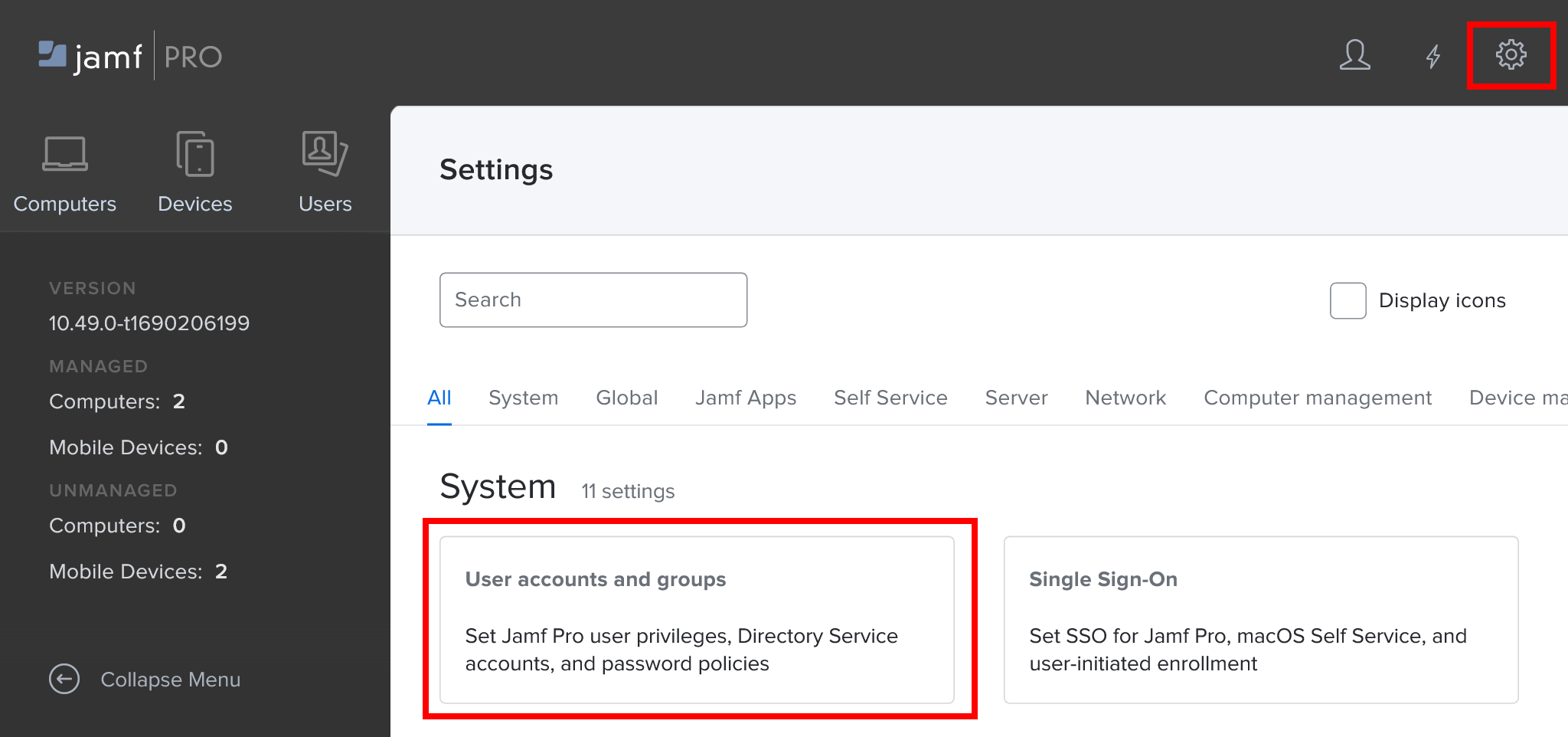 Select New.

Select Create Standard Account and click Next.

Provide the following information for the user account.
Username: trelica
Privilege Set: Custom
Password: we recommend using a password manager to generate this password, so that you can use it later when connecting to Jamf Pro from Trelica.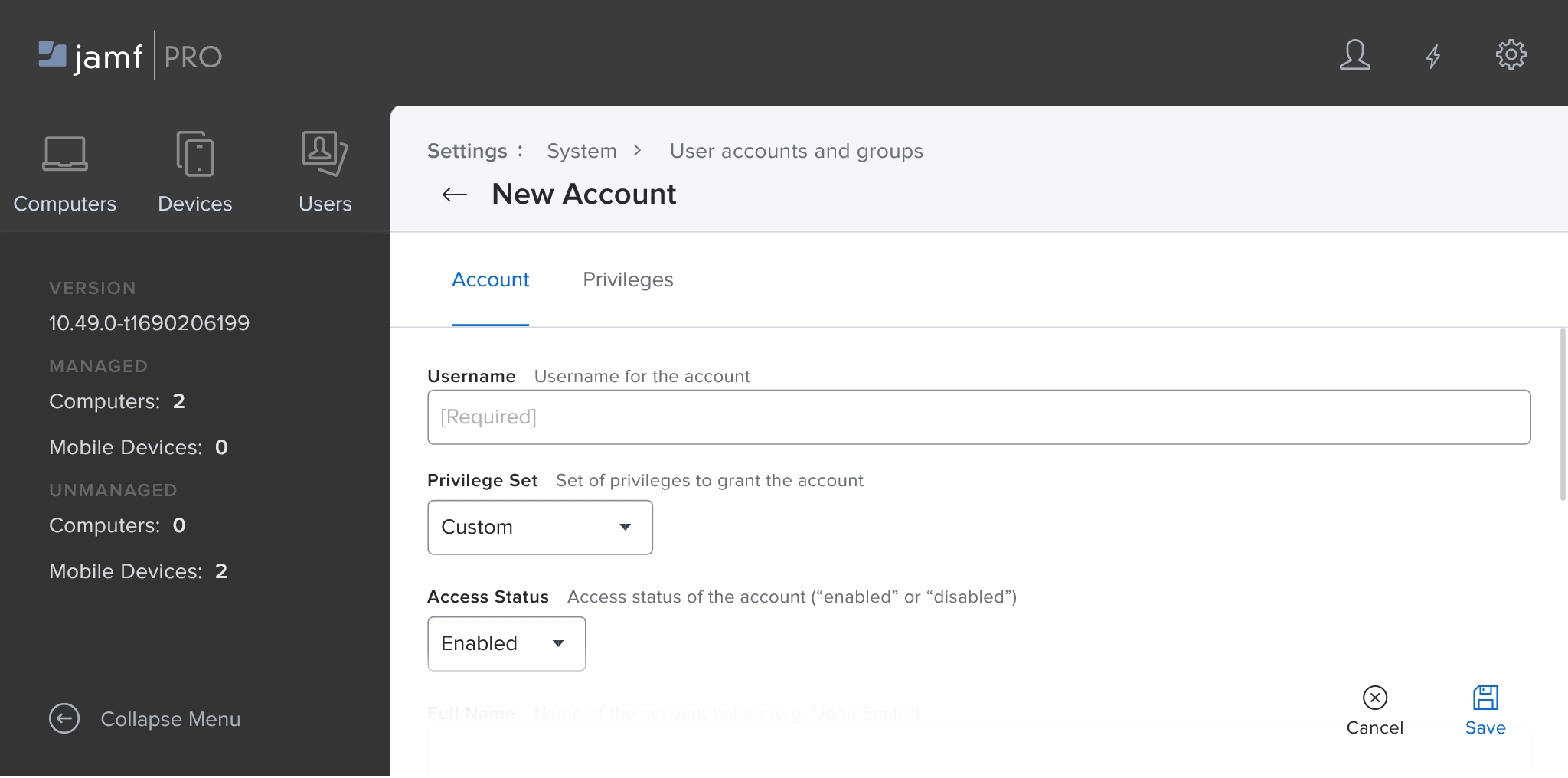 Click the Privileges tab, followed by Jamf Pro Server Objects, to configure the privileges for the user account. Grant read access for the following objects by checking Read:
Computers - required to count the number of computers assigned to a user.
Jamf Pro User Accounts & Groups - required to view users with additional roles within Jamf.
Mobile Devices - required to count the number of mobile devices assigned to a user.
Users - required to view users within Jamf.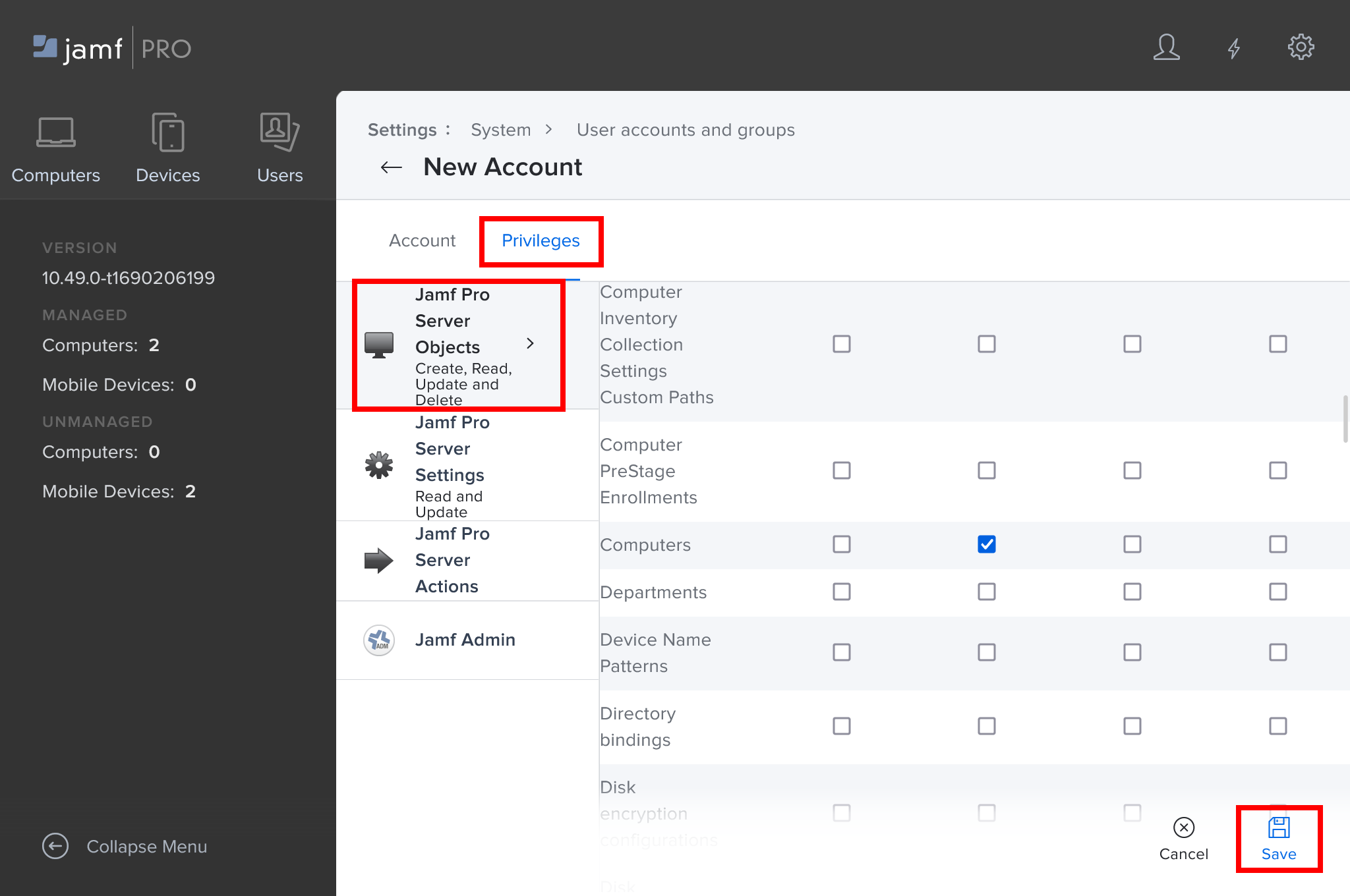 Click Save.
Connecting to Jamf Pro from Trelica
If you received an email asking you to set up the integration, then just click on the link, otherwise log in to Trelica and go to Admin > Integrations to get started.
In the Search... box, just type in Jamf Pro: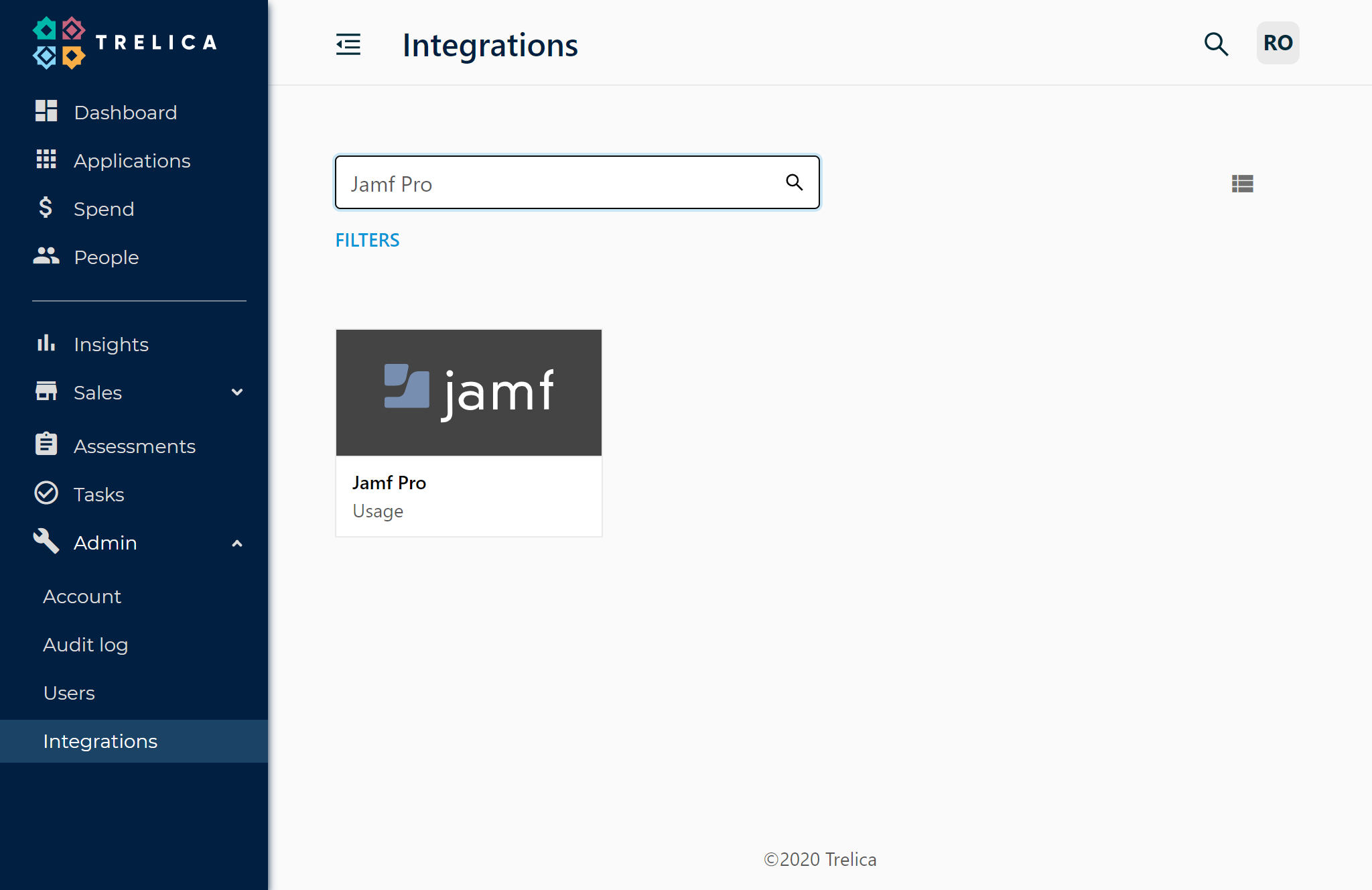 Then click on the Jamf Pro logo to get started.
Click the Connect button: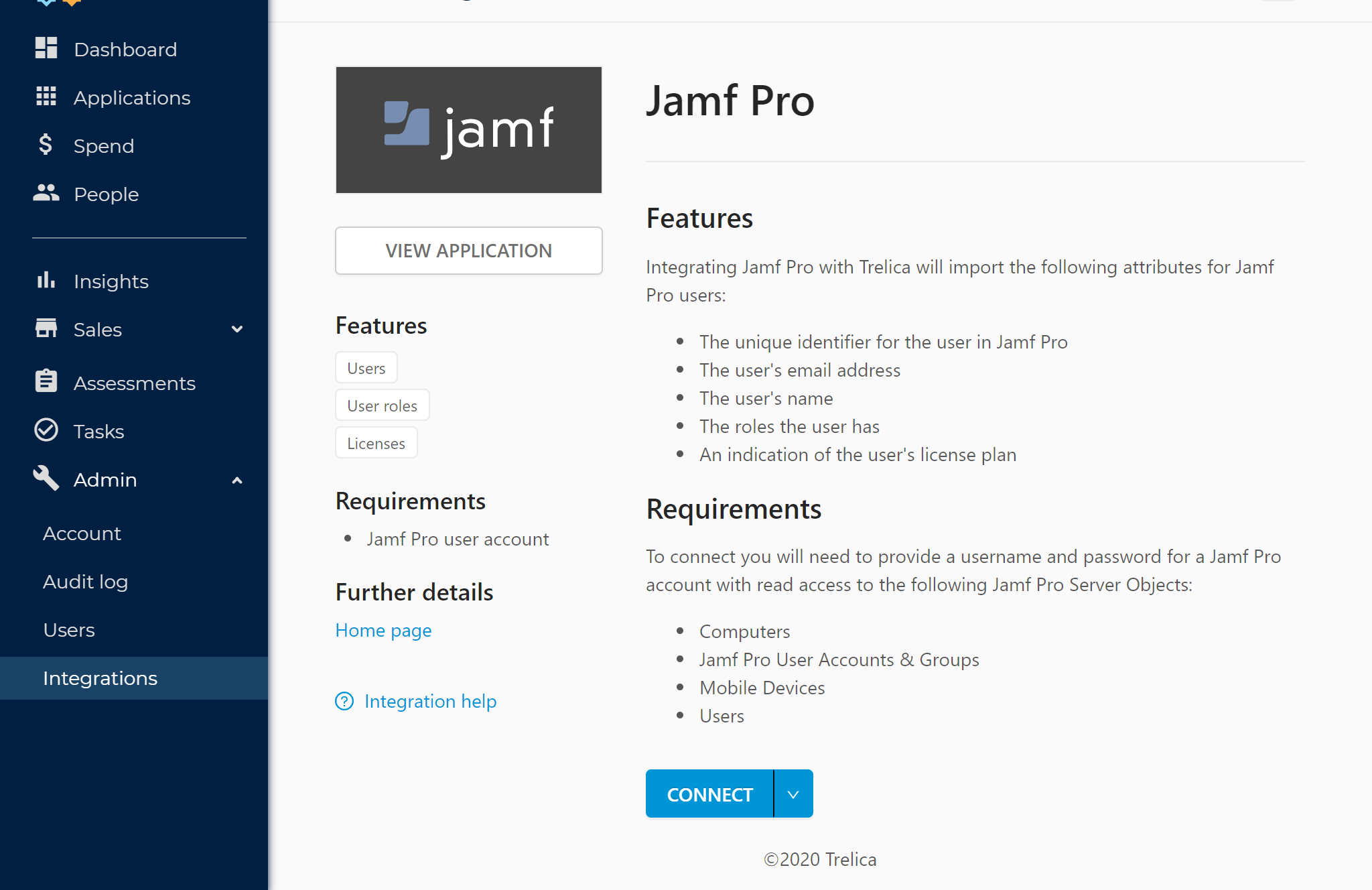 You will then be asked to enter the following details of your Jamf Pro account:
Instance URL
Username
Password
Enter the URL you use to access Jamf Pro followed by the username and password for the Jamf Pro user account created in the previous step and then click Connect.
After a short pause, Trelica will start to synchronize with Jamf Pro and you'll see a green tick when everything is done.
Although this shouldn't take long, you don't have to wait for this to happen - once you're back in Trelica feel free to go off and do other things.